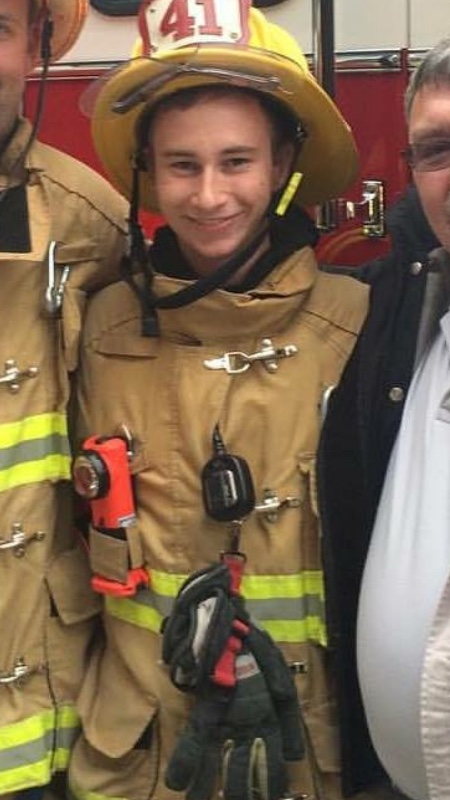 Sunday December 20, 2015
PRESS RELEASE
On Saturday December 19, 2015 at 6:59 pm the Centerville Fire Department responded to reported Chimney fire at 11 Fel Qui Road in the Centerville Fire District; Mutual aid from the Mount Marion Fire Department was also dispatched and responded.
When firefighters arrived on scene they observed fire coming from the ground floor. An entry team of firefighter from the Mt. Marion Fire Department had entered the basement to extinguish the fire. During the firefighting operation interior firefighter, 19 year old Jack H. Rose of Saugerties, a member of the Mount Marion Fire Department became separated from his team. Rose was quickly located by fellow firefighters and removed from the basement. Once outside, Rose became unresponsive and firefighters initiated lifesaving measures. Rose was treated by paramedics at the scene and transported by DIAZ Ambulance the Health Alliance Hospital, Kingston Broadway Campus, where efforts to revive Rose continued. Rose eventually succumbed to his injuries.
Jack H. Rose a three year member of the Mt. Marion Fire Department recently was elected to the position of Captain within the ranks of the Mt. Marion Fire Department. Mt. Marion Fire Chief Dave Ayers stated his department "is devastated over the loss of such a young life and a devoted member of the community, adding that Rose was loved by all in the fire service who knew him."
The cause of the fire and the death of Rose is currently under investigation by authorities from the Saugerties Police Department, The New York State Office of Fire Prevention and Control, (OFPC) in addition to the Ulster County Bureau of Cause and Origin.
Funeral arrangements are being coordinated through Seamon-Wilsey of Saugerties. A "gofundme" account has also been established:
https://www.gofundme.com/captainjackrose
We are respectfully asking that the media refrain from contacting any of Jack's family members in respect of their privacy especially during their time of grieving.
Recent Alarms
Mt. Marion FD is looking for members. Click Here for membership Information.
Call Numbers 2013
| | |
| --- | --- |
| Month | Number Of Calls |
| January | 17 |
| February | 14 |
| March | 22 |
| April | 8 |
| May | 14 |
| June | 14 |
| July | 13 |
| August | 13 |
| September | 12 |
| October | |
| November | |
| December | |
| Total | 127 |